Visualization and control of the production line manufacturing soundproofing materials for BMW vehicles in the city of Spartanburg, USA
The German company Stankiewicz GmbH is a producer of soundproofing materials used in the automotive industry and is known worldwide. Its production plants are located in Germany, Poland, Czechia, France, Belgium, and the United States. The production plant in the U.S. is located in Spartanburg, South Carolina. The Spartanburg plant produces soundproofing materials for BMW vehicles intended for the U.S. market.
In 2008, the Reliance SCADA/HMI system was installed here by the Czech company LAMAL to monitor and control the production line manufacturing soundproofing materials for BMW vehicles.
The Reliance system provides complete control and visualization of all production systems. It also controls the efficiency and consumption of all raw materials from processing.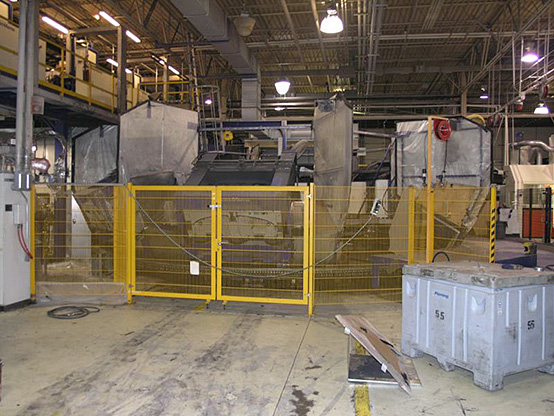 A turntable machine
The implementation of the control system was divided into two phases. In the first phase, systems for the production of soundproofing materials were installed. The main reason the new control system was implemented is very simple – to increase the efficiency and decrease the consumption of the whole production line.
The Reliance SCADA/HMI system provides display and monitoring of:
Current efficiency
Efficiency per working shift
Consumption of processing oil per working shift
The obtained data is used by the company's management for increasing production efficiency.
The new system also provides an efficiency information system, which keeps the workers and company management informed about production efficiency. The company's management is kept aware of production efficiency via warning text or email messages.
The warning messages are automatically sent to the management when production efficiency falls below certain limits.
During the second phase, the control system for the monitoring of process oil tanks was implemented. Reliance SCADA monitors the levels of process oil in the tanks.
The following systems will be implemented in later phases:
Process oil batching stations
Press machines
Foam moulds
Examples of visualization windows
Process oil tanks
Production line efficiency
Try the Reliance SCADA/HMI system
Try the Reliance SCADA/HMI system on several example projects or download the installer of the trial version for free.