Visualization and control of the biofermentation process at Orgaworld's plant in the Netherlands
April 14, 2015 | Reliance SCADA
Orgaworld is an innovative and fast-growing company in the field of organic waste recycling and energy. It focuses on the transition from residues to finished products such as energy, fuels, and agricultural products.
In 2010, the Dutch company RTP Elektrotechniek installed the Reliance SCADA/HMI system at Orgaworld's plant in Amsterdam to monitor and control the process of biofermentation. Reliance's user-friendliness was the main reason for installing this system at the plant. RTP Elektrotechniek is an electrical installation company involved in many projects in the following market segments: waste, energy, pharmaceutical chemistry, and food.
Control system
The master in the control system is a Siemens SIMATIC S7-400 PLC. The S7-400 device communicates with various SIMATIC S7-300 and S7-1200 PLCs, CHP units, and VACON AC drives via the Profinet, Profibus, and Ethernet protocols. Because of large distances, there is
a fiber-optic network ring built within Siemens SCALANCE modules.
To monitor and control the operation, two Reliance Control Server modules with support for redundancy and two Reliance Control modules are used. Using well-arranged visualization screens, the operator can monitor and control the entire system – from filling the storage tanks to the discharge of wastewater.
The following components are visualized and controlled through the Reliance SCADA/HMI system:
Cogeneration engines
Water treatment
Decanters
Biomass unloading
Dryer
Steam unit
Storage tanks
Fermentation
Gas unit
Examples of visualization windows
Visualization of the process of anaerobic digestion
Storage tanks
Visualization of the drying process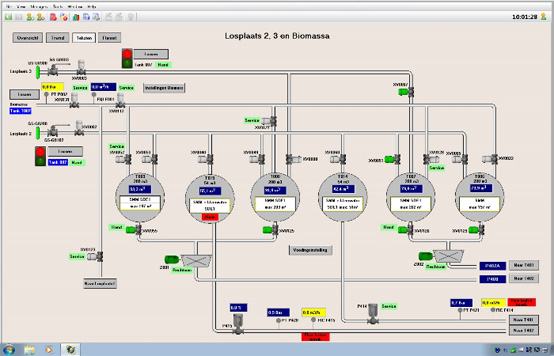 Visualization of the biomass unloading process
Visualization of the steam unit
Try the Reliance SCADA/HMI system
Try the Reliance SCADA/HMI system on several example projects or download the installer of the trial version for free.