Visualization and control of the nurse–patient communication system at Teplice Hospital
Bed wards at medical facilities (e.g., hospitals, retirement homes, nursing homes, or spas) and also at hotel complexes are equipped with communication systems of type nurse–patient, which are intended to improve health care quality. The modernization of the rehabilitation ward at Teplice Hospital included the installation of a new control system for the nurse–patient application.
Control system
The system's CU2-01M central unit is connected to the control PC equipped with a touchscreen monitor. To control and visualize the application and to archive data, the Reliance 4 SCADA/HMI system is used. The Reliance system monitors and controls alarm reports and their confirmation for individual rooms using a visualization screen. This can be viewed by the medical staff members on the LCD monitor. Each alarm report is accompanied by acoustic and visual signals. The GEOVAP company was responsible for the implementation of the Reliance system while AEC Novak was the supplier of the electrical equipment and hardware.
Examples of visualization windows
Visualization of the rehabilitation ward's rooms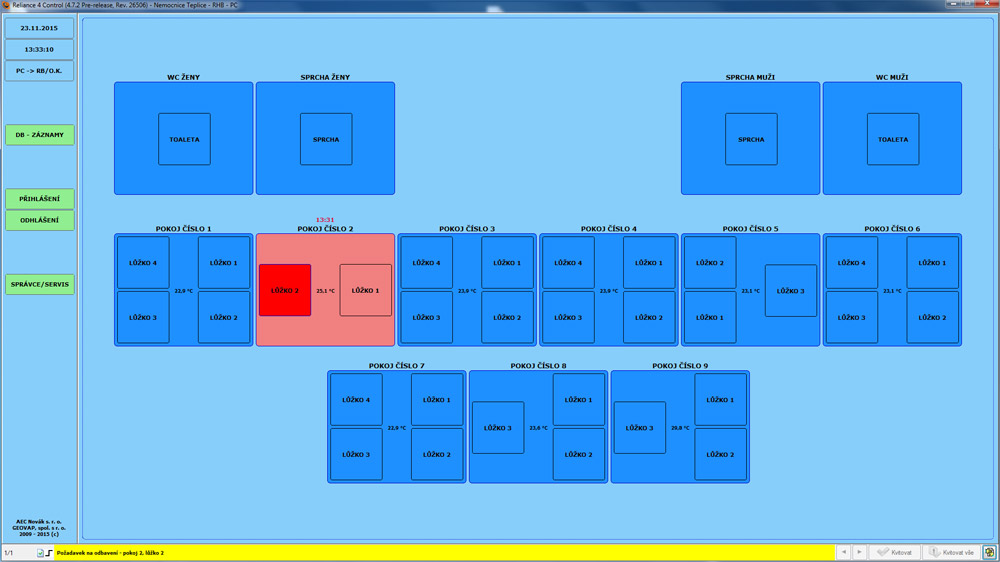 Visualization of the rehabilitation ward's rooms
Historical alarms/events
Try the Reliance SCADA/HMI system
Try the Reliance SCADA/HMI system on several example projects or download the installer of the trial version for free.