Visualization and control of the Hotel International Brno
April 30, 2015 | Reliance SCADA
The four-star Hotel International Brno has been under restoration since 2010. The restoration work is divided into several stages, most of which have already been completed (by spring 2015).
The hotel rooms have been refurbished with the emphasis on energy savings while maintaining the high standard of the hotel. This triggered a need for the integration of FIDELIO, a hotel reservation system, into the measurement and control system. Thus, vacant rooms can be switched into the economical mode or, based on reservations, prepared for guests prior to their arrival.
For maximum reliability, the operator's room is based on the server–client architecture. In the server room, there is a server where all monitored processes are concentrated and a workstation is available to the operating staff.
In case of urgent needs, the hotel operator can monitor the processes using a Web interface from both the intranet and the Internet.
The following systems are controlled and monitored
Room space control system
Air-conditioning units
Cooling engine room
Exchange station
Pool system
Advertisement control system
Load shedding
Laundry steam production system
Diesel generator monitoring system
Automatic pumping station monitoring system
Energy consumption reading system
Examples of visualization windows
The main visualization window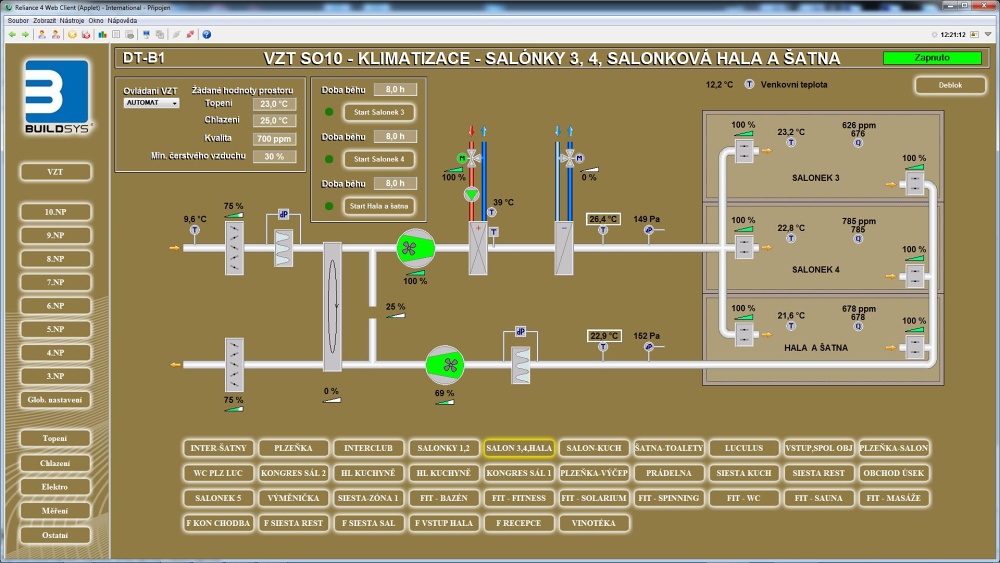 Visualization of the air-conditioning system
Visualization of the distributor
Visualization of hotel room temperature control
Try the Reliance SCADA/HMI system
Try the Reliance SCADA/HMI system on several example projects or download the installer of the trial version for free.