Visualization and control of a luxury single-family home in Bratislava
At the end of the year 2009, the construction of a new luxury single-family home in the city of Bratislava, Slovakia, was finished. The wiring in the house is based on an intelligent electrical installation system. Full scale visualization is based on the Reliance SCADA/HMI system and includes alarms, text messages, and historical data.
The electronics of the system is housed in three control cabinets. The main control cabinet contains a Tecomat Foxtrot CP-1004 PLC while the two secondary cabinets contain peripheral I/O devices. The Reliance 4 Control Server runtime software runs on a mini PC together with the CCTV system. The visualization project is displayed on a 15" LCD touch screen monitor located on the wall in the dining room.
The control program running in the Foxtrot PLC was developed using the Mosaic integrated development environment. The Reliance SCADA system provides a modern and user friendly graphical interface. It is used to control and monitor the following features:
Illumination of the interior and exterior of the house with relation to the twilight switch, PIR movement detectors, and the security system; centralized control of interior and exterior lights and garden illumination
Control of air-conditioning and central heating (radiators and floor heating)
Centralized window blinds control with a link to the weather station and the security system
Entrance gate control
Integration of the security and fire protection systems and the CCTV camera system
Monitoring of the HVAC system (a Stiebel Eltron air-to-water heat pump, solar water heating, an electric boiler, a Stiebel Eltron LWZ air ventilation system, and air-conditioning via cooled ceilings)
Monitoring of the pumps extracting cooling water from a well, the wastewater cleaning system, and drinking water supply
Configuring the GSM communicator settings
Access to Internet Explorer, Outlook Express, and the CCTV surveillance system
Program simulating the presence of persons by randomly turning on/off house lights
Examples of visualization windows
Visualization of the basement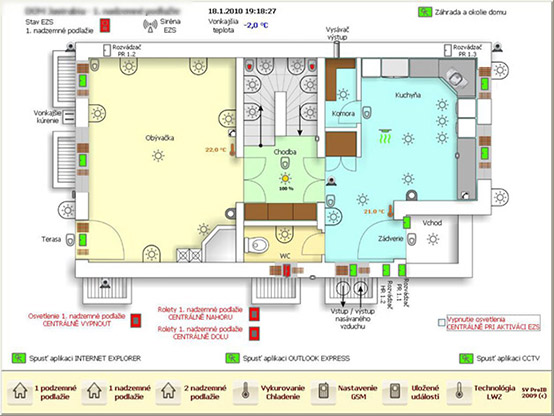 Visualization of the first floor
Visualization of the top floor
Visualization of the HVAC system
The HVAC system settings
The GSM communicator settings
Try the Reliance SCADA/HMI system
Try the Reliance SCADA/HMI system on several example projects or download the installer of the trial version for free.