Visualization and control of the HVAC system at Digital Park Einsteinova in Bratislava, Slovakia
Digital Park Einsteinova is an exceptional administrative complex intended for modern and progressive companies requiring flexibility and a convenient working environment and for those who appreciate the original and eye-catching design located strategically in the capital of the Slovak Republic with good transport links. It is the headquarters of many important companies, such as Penta Investments, Deloitte, OMV, Shell, Lenovo, Sauter, or Xerox. In 2010, Digital Park Einsteinova was announced as the Building of the Year for Best Office Development.
Specific features of the complex are its low building density and a high number of resting zones in the natural environment of green and water areas. The whole complex is divided into interconnected pavilions, which allows for horizontal and vertical arrangements of rental spaces.
Control system
After the construction of Digital Park Einsteinova was finished, it was necessary to install an HVAC system in all office buildings. The Sauter Building Control Slovakia company was responsible for installing the HVAC system including the installation of the SCADA system. The control system is designed to automatically operate the heating/cooling sources. It also monitors the control of air-conditioning units.
In each office, temperatures are controlled by local IRCs (Individual Room Control). These IRCs control the output of the heating/cooling converters called fan coils, which adjust temperatures in offices by the specified amount of centrally conditioned fresh air.
Topology
The topology of the control system is defined in two levels. Level 1 – Access and Supervision – is a PC fitted with the Reliance SCADA/HMI system and PLCs located in control cabinets installed within the area of Digital Park. The transfer of data between the control system and the Reliance system is realized using the NOVA NET protocol.
Level 2 – Internet – is divided into 11 Web clients (Reliance 4 Web Client). This allows for the remote supervision of buildings from any PC connected to the Internet.
Reliance SCADA
To control and visualize the HVAC system, the Reliance SCADA/HMI system is used. The following processes are controlled and monitored via several well-arranged visualization screens:
Air-conditioning unit icing protection
Automatic time program air-conditioning unit settings
Optional day/night operational modes
Air-conditioning unit operation
Automatic air-conditioning unit shutdown in the event of fire
Pump operation
Cooling unit settings
Heat source default operating condition settings
Heat distribution throughout the complex
Entrance and common area heating settings
Excess heat ventilation in entrance areas and cooling in summer
Fire damper settings
Examples of visualization windows
Visualization of air-conditioning in offices
Visualization of air-conditioning in the reception area
Visualization of an air-conditioning unit
Visualization of a boiler room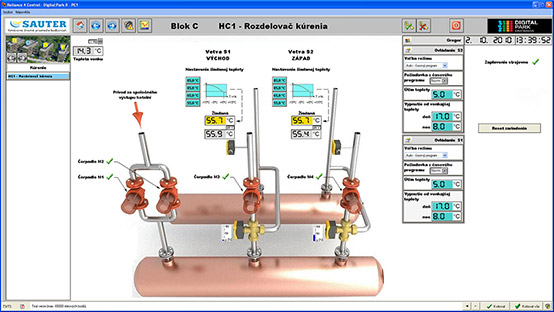 Visualization of a heat distributor
Try the Reliance SCADA/HMI system
Try the Reliance SCADA/HMI system on several example projects or download the installer of the trial version for free.