Visualization and control of HVAC systems at the University of Pardubice
The University of Pardubice has been extending a sixty-year-long tradition of higher education in the city of Pardubice. The Chemical College, later known for 40 years as the Institute of Chemical Technology, was founded in Pardubice in 1950 to answer the needs of the East-Bohemian region, which had a highly developed chemical industry, yet lacked professionally trained specialists in this field.
After 1990, the character of the Institute changed, new faculties were founded offering a wide range of study programs, not only chemistry-related. Since 1994, the new name – the University of Pardubice – has been used.
The University of Pardubice is one of Czechia's 26 public higher education institutions, and the only higher university-type educational institution in the Pardubice Region.
Source: www.upce.cz
In 2002, the Energie MaR company implemented a system designed to control HVAC systems at the University of Pardubice.
Water from the Opatovice Power Station's central heating system is the primary source of heat. Hot water is distributed from the central heating system to the heat transfer station at the university campus. Hot water, stored in the transfer station boilers, is subsequently distributed to the local heating circuits and to the water-to-air heat exchangers of the air-conditioning units.
Cooling units are the source of cold water. In summer, cold water is supplied to the water-to-air heat exchangers by the cooling units.
Control system
The HVAC systems are controlled by seven Honeywell PLC devices installed throughout the university campus. The heat transfer station is controlled by one TECOREG PLC.
The Honeywell and TECOREG PLCs are connected to Ethernet and communicate with one control PC located in the main control room. To control and monitor the HVAC systems, the Reliance SCADA/HMI system was installed on the control PC. Data from the control system is acquired by the Reliance system, too. The Reliance system processes more than 1,000 signals (for example, temperatures, pressures, states, error signals, time programs' parameters, heating curves' parameters). The data stored by the Reliance system in the database is used as an information source for subsequent analyses.
Using the control PC in the control room, the Reliance system is responsible for the control and monitoring of the HVAC systems in the university's:
Main building
Library
Lecture hall
Institute of Energetic Materials building at the Doubravice district
Examples of visualization windows
The overview window showing the map of the university campus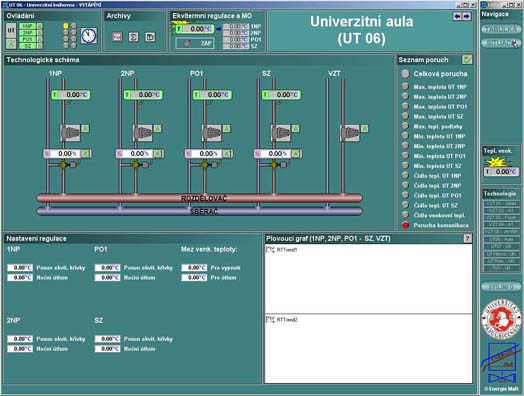 Visualization of the heating system in the lecture hall
Visualization of the air-conditioning system in the university library
Visualization of the water heating process
Try the Reliance SCADA/HMI system
Try the Reliance SCADA/HMI system on several example projects or download the installer of the trial version for free.