Visualization and control of heating and energy management at the KARBOX production plant
August 16, 2016 | Reliance SCADA
KARBOX is a Czech company specializing in the manufacture of containers, sandwich panels, box bodies for vans and trucks of all makes, and exhaust pipes for Iveco (formerly Karosa) buses and Tatra trucks.
In 2016, the production plant underwent renovation and, in addition, it was requested that energy use be more efficient. Therefore, this request also included the control of measuring-and-control and IRC (Individual Room Control) systems.
The system for the control and visualization of heating and energy management, which was implemented by the ELG-ELECTRIC company, is provided with the Tecomat Foxtrot control system and the Reliance SCADA/HMI system. The GEOVAP company was responsible for developing software for the control system and for creating the visualization project.
Control system
The control system is installed in 9 control cabinets located in the production plant. The PLCs are interconnected via a fiber-optic infrastructure and data exchange is performed through PLCNet. Each control cabinet is equipped with a 10" operator HMI panel (ID-36), which is used to locally control and visualize the respective systems.
The control system is used for the monitoring and control of:
Operation of the IRC systems in about 60 rooms (storage, office, and production facilities)
Heating of production halls using ceiling-mounted gas infrared heaters
9 gas boiler rooms
Energy consumption (gas, electrical energy, water, heat) – M-Bus communication, pulse metering
Load shedding
Lighting control will be implemented soon.
All data from the control system is passed to the operator's PC equipped with Reliance 4 Control Server. Using visualization screens, the Reliance SCADA/HMI system allows the operator to monitor individual processes and alarm reports, set parameters, and use reports to view historical data. The operator can also access the visualization project and data via a tablet from remote locations.
Examples of visualization windows
The main window
Visualization of boiler rooms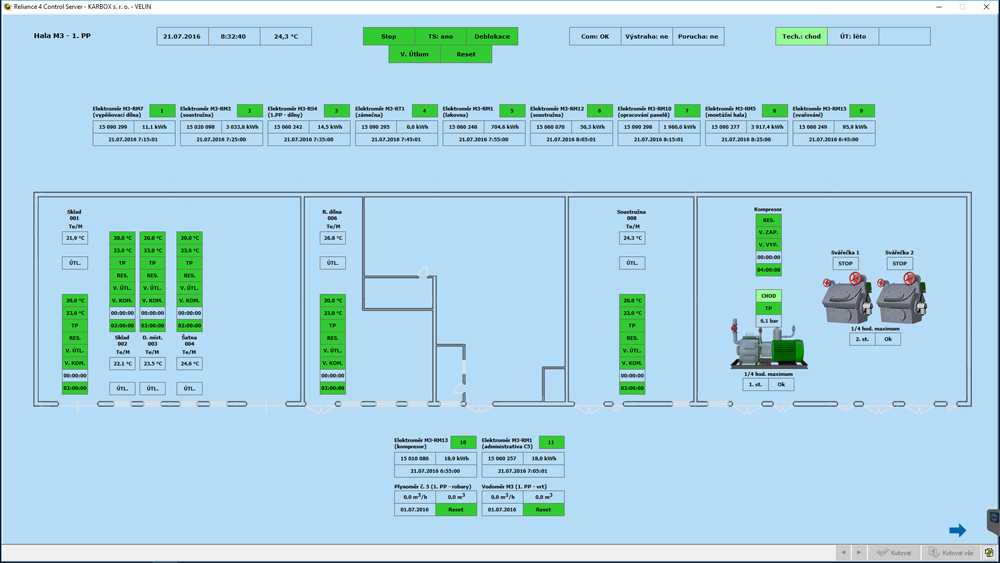 Visualization of electrical energy consumption in Hall M3
Visualization of the heating system in Hall M3
Visualization of the distribution system
Try the Reliance SCADA/HMI system
Try the Reliance SCADA/HMI system on several example projects or download the installer of the trial version for free.