Visualization and control of the processes of cooling and freezing at the Dutch company Zandbergen Vleeswaren
January 19, 2021 | Reliance SCADA
Zandbergen Vleeswaren is a Dutch meat producer that specializes in the manufacture of bacon products. Its headquarters is situated in the city of Haarlem. Using various types of packaging, the company's many bacon products are supplied to retailers, wholesalers, hotels, sandwich bars, and industrial customers all over Europe.
In 2017, the company's production facility was in need of an expansion to keep up with future growth. For this purpose, a building permit for an addition of 16,000 m2 was applied for and issued, which means that the original surface area was more than doubled to 28,000 m2.
In 2020, the Dutch company Chiron-tec B.V. implemented a system for the control and monitoring of the processes of cooling and freezing at Zandbergen Vleeswaren. It involved three separate installations – the conversion of two existing installations and one new installation.
The new installation included:
6 compressors (2,500 kW of cooling capacity)
8 compressors (1,000 kW of freezing capacity)
3 compressors (1,000 kW of heat-pump capacity)
All heat from the cooling installation is used for heating the production water. Six air handling units are installed for the supply of fresh and clean air.
Control system
The system consists of three Siemens SIMATIC S7-1500 PLCs (with 1,990 IO signals) and the Reliance SCADA/HMI system. All the three installations are monitored by one Reliance project running on two independent computers.
The control system is used for the control and monitoring of the production facility's:
Engine rooms
Industrial heat pumps
Cooling and freezing rooms
Air handling units
Among other things, it is also used for:
Displaying and printing trends
Floor plan monitoring
Email notification in case of an alarm
Examples of visualization windows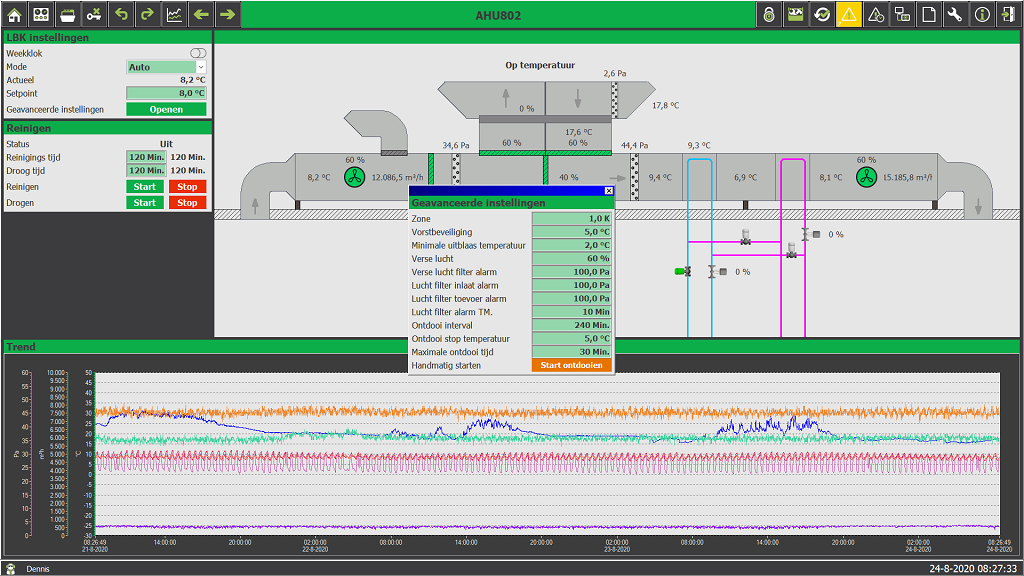 Visualization of an air handling unit
Cooling settings
Cold glycol
Visualization of an engine room
Visualization of an engine room
A floor plan (side view)
Heat recovery
Inputs/outputs for service
A weekly time program
Try the Reliance SCADA/HMI system
Try the Reliance SCADA/HMI system on several example projects or download the installer of the trial version for free.