Visualization and control of the ripening process at the Dutch company De Groot International BV in the town of Hedel
September 3, 2015 | Reliance SCADA
Since the early 1930s, De Groot has been supplying a wide range of fruits and vegetables to a steadily increasing and loyal customer base, covering all sectors of the fresh produce industry. In the Netherlands and Belgium, the company has four climate-controlled locations at its disposal, totaling 40,000 square meters of floor space.
Source: degrootfreshgroup.com
A picture of the ripening plant
The ripening plant in Hedel is one of the biggest in Europe – it consists of 81 banana ripening rooms (4 Grasso ammonia compressors). An innovation in this project is the direct ammonia pump system in the rooms – all rooms are directly cooled with ammonia (liquid). In the plant, each room's CO2, O2, and NH3 PPMs are measured.
Control system
To control and visualize the process of banana ripening, the Reliance SCADA/HMI system is used (Reliance Control Server). In addition, the process is monitored on iPads and iPhones via Reliance's thin clients. There is also an extra PC equipped with Reliance View that allows display on a big flat screen mounted in the conference room.
Examples of visualization windows
The overview window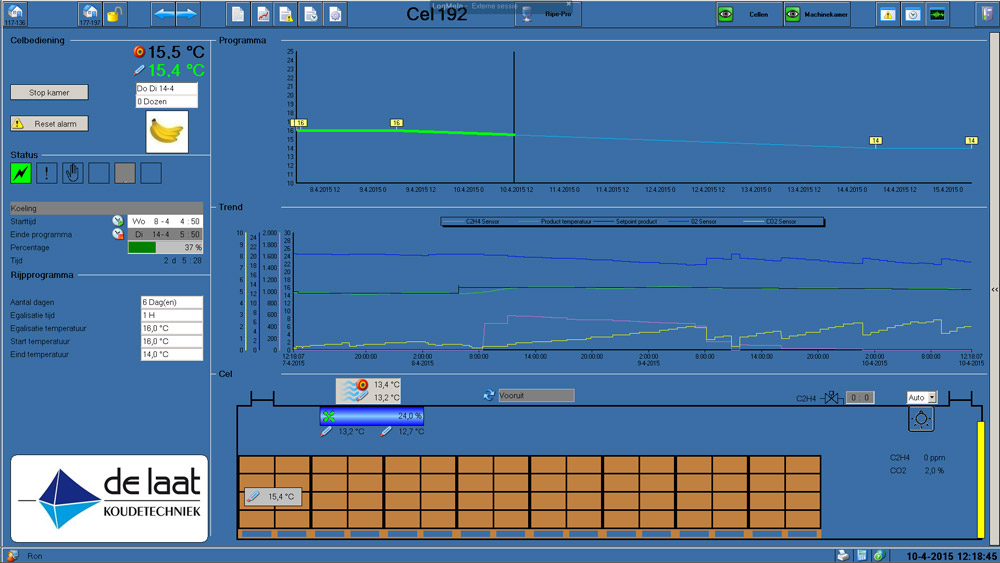 Visualization of the banana ripening process
Temperature settings for a ripening room
Detailed settings for a ripening room
Try the Reliance SCADA/HMI system
Try the Reliance SCADA/HMI system on several example projects or download the installer of the trial version for free.